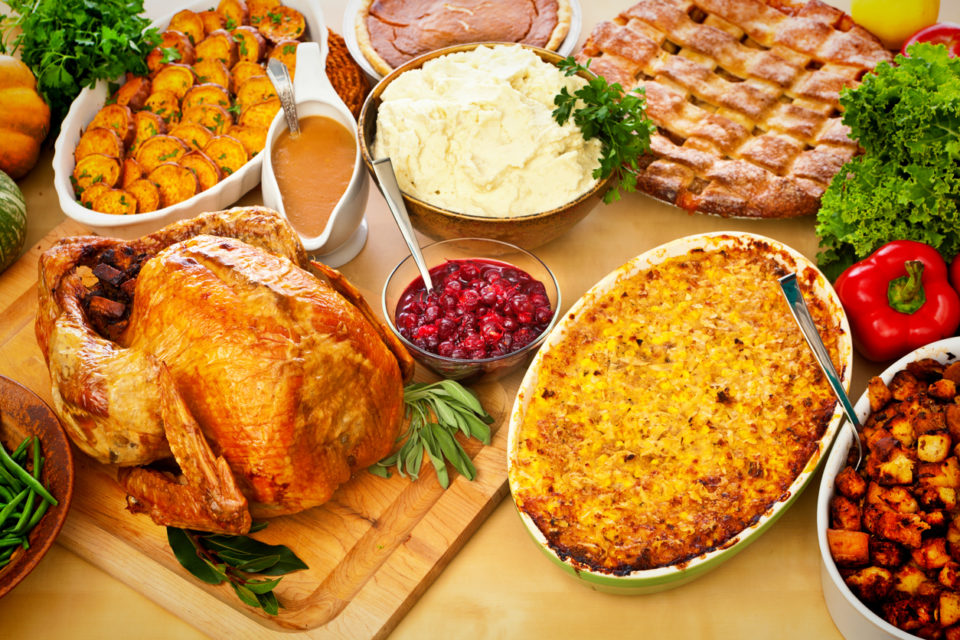 Perhaps more so than on any other day of the year, Thanksgiving is about good food and lots of it. Of course, there's more to this holiday than just eating, but what you serve at the table can make your gathering more successful. You'll likely have the traditional main piece of the meal — the turkey. Plus, there are additions to the dinner that you can make and serve. You may even find some new and creative recipes that you haven't tried before.
Bacon Appetizers
Is there ever a bad time to have bacon? Breakfast, lunch, dinner, and anywhere in between, you can find a place for this mouthwatering salty pork. To whet your appetite for Thanksgiving dinner, try wrapped cooked bacon around a buttery cracker and parmesan cheese. You won't be able to have just one or two.
Three-Bread Stuffing
Along with turkey and potatoes, stuff is arguably the most popular Thanksgiving dinner item. As a result, this recipe is sure to be a mainstay at your holiday dinners. Here's what you'll need:
½ loaf rye bread
½ loaf sourdough bread
4 tablespoons unsalted butter
1 cup frozen chopped onions
2 medium carrots, chopped
3 stalks celery, chopped
Salt and pepper to season
1 14-ounce bag cornbread stuffing
1 cup turkey gravy
2 cups chicken broth
2 large eggs, beaten
1 tablespoon poultry seasoning
½ cup parmesan cheese
To begin with, cut the bread into 1-inch cubes and spread them evenly on a baking dish. Heat a skillet to medium-high and add the butter. Put in the onions, carrots, salt, and pepper once the butter melts. Cook for 10 minutes until the vegetables are soft.
Meanwhile, preheat the oven to 350 degrees. Butter or grease a 9-inch-by-13-inch baking dish. Place the bread cubes in a large bowl with the stuffing and add the vegetables once they cool. Moreover, in a medium bowl, whisk the broth, gravy, eggs, and poultry seasoning. Then, pour over the bread. Top with Parmesan cheese. Bake for 35 to 40 minutes.
You might also like: Building A Tool Kit For Beginners
Sweet Potatoes and Marshmallows
Some things that don't sound like they would go together, in fact do. For example, chicken and waffles, steak and eggs. Now, you can try sweet potatoes and marshmallows with Thanksgiving dinner. Here are the ingredients:
2 tablespoons butter
2 cups brown sugar
1 ½ cups water
2 ½ pounds sweet potatoes
1 lemon, sliced and seeded
½ cup chopped pecans
3 cups marshmallows
Heat your oven to 350 degrees. Meanwhile, melt the butter and stir in the brown sugar and water. Once it boils, lower the heat and simmer until the mixture thickens, for about 10 minutes.
Furthermore, peel the potatoes and cut them lengthwise twice, so they are in quarters. Cut into 1-inch pieces and place in a large pot of boiling water. Cook for about five minutes. Then, drain the potatoes and arrange them in a single layer in a greased or buttered 13-inch-by-9-inch baking dish. Put the lemon slices on top and bake for 35 minutes. During this time, spoon the syrup over the potatoes at least twice.
Remove from the oven, take off the lemon slices, and stir in the pecans. Place the marshmallows evenly on top and bake for 10 more minutes at 400 degrees.
Give these dishes a try this Thanksgiving. Some may be new to you; however, there's a good chance that you and your guests will rave about them all year.
Disclaimer: The stock image is being used for illustrative purposes only, and it is not a direct representation of the business, recipe, or activity listed. Any person depicted in the stock image is a model.