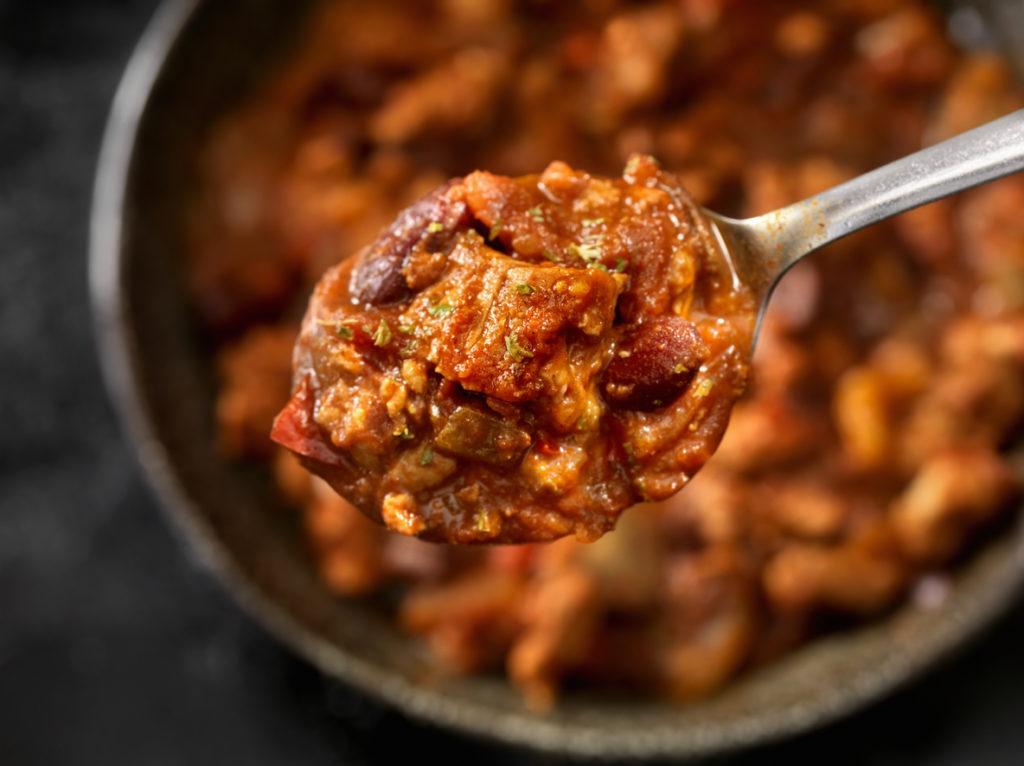 As we ease into fall and the cooler days approach, it's a great opportunity to whip up some hearty stews and other hot dishes. If you want chili on a chilly day, try any of these chili con carne recipes!
Quick and Easy
While some stews can take a while to prepare, this classic beef chili recipe comes together in half an hour! Dig into your spice rack for chili powder, garlic powder, salt, pepper, and cumin, and if you want extra heat, reach for the cayenne powder as well. You'll start by cooking diced onions in olive oil inside a large soup pot. Next, a pound of lean ground beef goes in, followed by tomato paste and seasonings. It must all simmer together for about 20 minutes or more, then left to rest for a few minutes before serving.
Chicken Chili
You can always swap out the protein for a change of pace, so consider Ina Garten's chicken chili if you'd like to try some particularly piquant poultry. As the oven comes up to 350 degrees F, dice some red and yellow bell peppers as well as yellow onion. Those bells are bright and mild, so for heat, you'll also need dried red pepper flakes as well as cayenne powder. Simmer the vegetables in crushed tomatoes on the stovetop while the chicken roasts for up to 40 minutes, then pull the chicken from the bone and add it to the simmering stew. Let it cook for 20 minutes more, then serve with cheddar cheese, sour cream, and corn chips.
Carne con Chile
Chili recipes have developed and changed as the dish became popular around the U.S., and they all came from the original methods that have long been a staple of Mexican cuisine. The dish was introduced to American palates in San Antonio, where the chefs of the city plazas would cook family recipes for the crowds that gathered every night. This carne con chile recipe draws from those old traditions with rich, warm flavors courtesy of dried chiles like ancho and chipotle. Chuck shoulder is perfect for slow cooking, and the end result is well worth the wait.
You might also like: Pick The Perfect Pumpkin At These Pumpkin Patches
James Corlew Cadillac
If you want to spice up your ride this fall, come see what we have for you at our Clarksville dealership!